In June 2016 Ingrid Dechant checked nearly all our projects in Nepal she was in Thanapati, in Kabilash and she visited the children who we gave the scholarships. Ingrid did a fantastic job an she is the New Helping angel on site in Nepal. Here you can read her fantastic report about ongoing projects and very happy children and Last But not Least a "new" teacher For Thanapati. We are very happy to have Ingrid in our little team!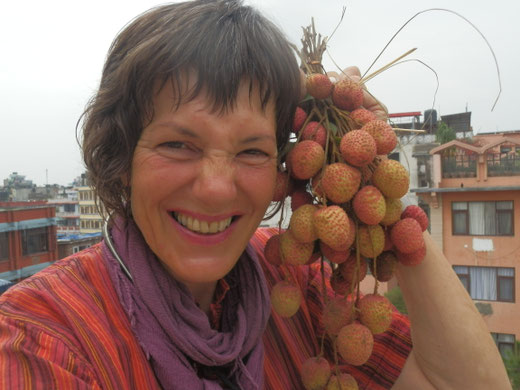 One year after .....the region of Thanapati/Nuwakot is situated on the northern slopes of the mountain range north of kathmandu high above the likhu valley (Kabilash is situated just opposite on the other side of this valley) a region which was extremly stroke by the earthquake. It is the typical nepalese midlands deeply structured and densely inhabited by farmer people, small villages and single houses among endless steep terraces.
On the map you can see Thanapati, Kabilash and Chisapani (Shree Buddha school).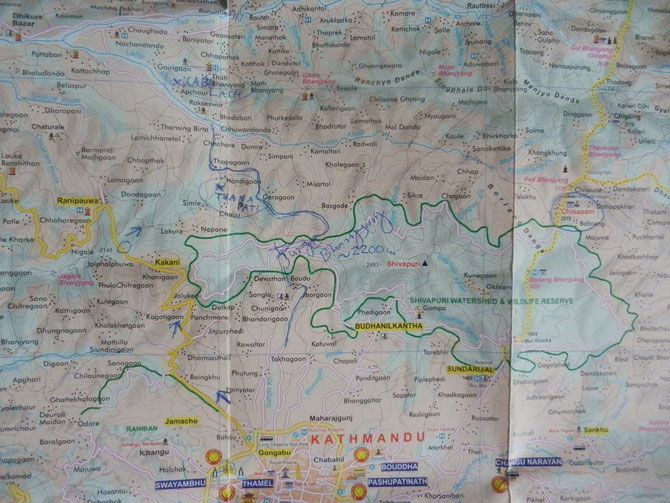 For me - although I knew it before - it was quite a shock to learn that no single unbroken house or stable was still standing there - and the old farmer houses were very nice, two floors with a roof top for storage and outside mud painted in white and orange. And of course they have lost big part of their belongings. Now only big piles of broken stones, maybe rests of the ground-floor repaired with thin and bamboo or new small huts made of thin just to protect from rain, sun and animals. I could not believe. But people was living their usual life as if there had happened anything like working on the fields, caring for their animals, cooking, meetings .... children were in school. And everybody friendly and laughing as it always used to be and sharing the few they have.
---
Ingrids Report about Thanapati
To Thanapati I went there with Bashus father. a two hrs hike from bus from west more or less flat. From south you have to climb up the mountain for about 1 hr - very steep. Stood first with teachers family - mother and two daughters (they spoke some english), only a hut made of thin but very clean with moskito net and very nice people, we laughed a lot. To the school it is a walk of 1/2 hr. Unfortunately the teachers son was ill and in hospital in kathmandu. He was already better when I left Nepal.
Kalpana Kamang (teacher) is in charge of the childrens garden and she really worked a lot with the children as well as in preparing the competition, topic no.1 when i was there. This little childrens room is due to the donations of Helping-Hands very well equipped with matterasses and learning equipment. The kids (3-6) learn letters, numbers, alphabet, animals and the first english words, some are sleeping, it is a very pleasant surroundings.  The director (will retire soon) did a lot of paper work and one day the techniciens from government in charge of making plans for the reconstruction of the damaged schools were there for discussions. One wall of the old school is damaged and behind this hole children in class ... they already started construction of a new additional school building with 3 rooms as with the new young teacher they now have as double as many children as before (more than 100) - parents love to send their kids to school now.
The older children very often were alone in or outside class . maybe because teacher was ill. so the director sent me to classes to give lessons what i really enjoyed a lot. I teached science (a very nice subject about humans, animals, nature, diseases, how to nourish reasonably etc) and english. They also have books about correct behavior and what to avoid (i have seen these books in kathmandu as well). Lessons are from 9-13 and 14-15. school year is from April to March and in the rainy season in our summertime there is holiday as well. In the afternoon there was preparations for this competition in motoric skills or children played somewhere outside. I had to join these exercises together with the teachers, but I always was last ...... So hopefully soon the ill teacher will return and school will be repaired! I was very sad to leave for the director s house. I enjoyed it really a lot and would have liked much to take more pictures. After I went back to Kathmandu I brought paper and pencils, a ball and skipping ropes for the kids (not that much as i had to carry it in my bagback) and then gave money to Bashu to buy a new globus and send it there with his father. 
---
Ingrids report about Kabilash
Kabilash is situated as well riverside in the likhu valley as on the slopes above just opposite of Thanapati. A wide valley where they grow lots of rice twice a year. Every farmer from the hills also has a ricefield down in the valley as due to the lack of water they can plant rice only once a year on the steep terraces higher up on the slopes. Villagers and workers did not have fresh water before as water came from the river.
Helping-hands system includes a new fountain down in the valley which by a 1,2 km long underground pipeline in plastic is connected to a big cistern situated a little higher already in the jungles where you find a small river . A bit above there are two further smaller cisterns with sieves inbetween to retain leaves etc. not yet solved is the problem of mud coming into the highest cistern with heavy rain (due to construction of a new road) but villagers will fix this themselves. So now hundreds of people have nice water to drink and cook and diseases can be avoided. 
And there they grow the best lychees i ever had in my life!!!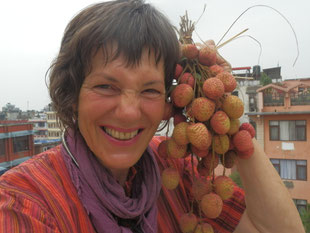 Down in the valley most of the houses are broken as well - only the newer houses made of concrete are still standing. i went there by local bus from kathmandu (3hrs and again 3hrs back) together with Ram as i m afraid to ride the motorbike. Especially on these roads, you have to cross a pass of approx. 2200m and go down again to 1000m, a phantastic mountain road, but road shows more mud and landslides than asphalt and if two buses meet it is sometimes too small ......
---
Ingrids report about the two chidren who we gave a scholarship, Roja and Rojesh
Together with Bashu I visited Roja and Rojesh first in their school and then their home. This school on one hand is a school in town and on the other a private school - what difference to school in thanapati, a small village and a public school. Everybody who can afford (you have to pay for public schools as well but less) send his children in private schools as they offer a much better surroundings and lessons and its the chance for a better quality education and a better start into life! In Kathmandu there are about 1500 private schools and only 150 public schools.
The liberty secondary school is a very nice building with colors, pictures, words on the walls. a very nice and professional surroundings. It was built new after the earthquake as old building was too much damaged. Very nice and professional teachers as well. First I visited classes, then had a conversation with director and teachers. Kids are no super pupils but not very bad ones, just in the middle. director mentioned that of course familiar problems affect kids and their learning so these kids generally could have more success in school - was really surprised about he mentioned this, teachers seem to be very sensitive.
Then we went to their home, one room in a flat tiny building, but very clean and nice, two beds, little kitchen and lots of jugs and containers with water (they have to bring it from somewhere and it s not always working). Such a single room in Kathmandu is about 40-45 euro /month and still this is too much for many people. The mother is selling sun glasses in the streets and father cannot work at the moment because he is very ill.    
---
Ingrids Report about the other 5 Kids we gave a scholarship
In Ammar s house together with Ram, their families and the kids getting scholarship
Bashu i already knew for a lot of years and Ammar and Ram i met first time the day arriving in Kathmandu when we all had a conference to organise my project schedule after coming back from trekking.
Due to lack of time and three stikes within 2 weeks (no busses, no school, few and horribly expensive taxis due to this strike, public life therefore was standing still and only few people in street) i unfortunately could stay only 2 days in Ammar s very nice house together with all his lovely family. There i met the other 5 kids getting scholarship and one kid who might get scholarship as well.
The three Lama-kids not living far away from Ammar s house  (visiting a government school, family is coming from a very remote village in Nuwakot and parents are analphabet like about 50% of nepali people)  come over every day when school is finished getting some food and Ammar s wife Sushila and sometimes his son Asim as well make exercises with them. this way Ammar has as well control that the kids have been in school - espec. in government schools nobody cares if kids are coming to lessons or not, if they come it is ok, if not they don t come .... school performance of the three girls still has to be improved considerably.
One day Shristi Sitaula along with her mother and brother and Utshav Karki along with his father (was very tired as they had to walk on foot about 45 min to Ammars house) were there as well. Both of them are very satisfying pupils, Shristi just had passed her first test in first class and she was outstanding, it was her who had the best results of all pupils!
the father s of these kids only can find work sometimes - very normal among these people (in their home villages they did farming).
The father of the 3 Lama kids is worker carrying home stuff from shops in case people have bought heavy or many things, Shristi s father is working in a little shoe shop, but at the moment he is mentally ill and cannot work as per the doctors and Utshav s father is porter, i.e. he only sometimes can get a job too.
There was another little boy in Ammar s house - you can see him on the picture with his little brother. He is very lively and seems to be intelligent and eager to learn something. His family is living just opposite Ammar s house in one room of a tiny house, the garden house of a very rich man having there a big green garden with lots of vegetables he is selling. His father is porter as well and family already asked fo scholarship for the boy. Maybe it will be our next one? I discussed with Ammar possibilty of paying e.g half of the school cost when parents earn some money .....?
It was a pleasure for me to see all these things of "normal" life and i have learnt a lot about nepali life and met lots of friendly people!
Ingrid Dechant, June 2016